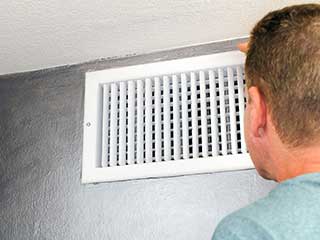 Here at Air Duct Cleaning Pearland we are proud to assist you with quality air vent cleaning services to decontaminate your ducts. A well cleaned air vent will perform better, draw less energy, and will also ensure that your indoor spaces are clear from harmful contaminants, dirt and unwanted smells. So, if you have been looking for the right partner to assist you with your ventilation systems, be sure to contact us for information or advice. Here are but a few of the ways we are happy to help:
Testing the Quality of Your Air
A good starting point when having your ducts cleaned, is to first have the air in your home or office tested for levels of dirt and contaminants. This is because when a vent gets clogged with excess dirt and debris, it not only hampers its performance but also lowers the quality of the air in the areas in which it operates. If you would like to find out whether or not your ventilation ducts are performing as they should, have one of our technicians test the quality of the air in your living and working spaces.
Air Vent Cleaning and Sanitation
If you are looking for the perfect partner to assist you with air vent cleaning, our technicians have the experience and skill required to give you what you need. We conduct various cleaning services for vents, dryers, ducts and HVAC systems to ensure that they keep on performing admirably regardless of age or condition. So, speak to us about having collected dirt and debris removed from your ducts, and you will notice the difference.
Removing Mold from Your Ducts
It is fairly common to find mold in air vents, especially those that operate under damp or stuffy conditions. Unfortunately, spores from mold can be easily circulated throughout your home or office when it takes root in your vents, and can be exceptionally difficult to be rid of. So speak to us about our professional cleaning and sanitation services and we will remove mold from your vents, home and office.
Call Us Now For Details
If you would like quality, professional assistance with keeping your air vents cleaned and free from contaminants, contact one of our consultants at Air Duct Cleaning Pearland for more details on the services we offer. We are waiting on your call and are ready to help.