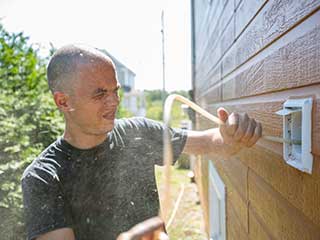 Signs It Needs It!
How do you know for sure whether or not your dryer's vent needs a cleaning? There's the fairly obvious method of checking to see if there's noticeable build-up of lint and dust stuck in the vent, but if it's hard to see then that doesn't always work. You may instead note that the outside of your dryer is hot to the touch, or that it's taking much longer for your clothes to get dry. In both cases, it's because your dryer is working harder to do its job and get the heated air through the clogged vent.
The most concerning indication to be aware of is a burning smell. If you notice this, immediately turn off your dryer and refrain from using it until you have the vent cleared. It's likely caused by the lint starting to burn from the high temperatures, which is dangerous!
Why Should You Get It Cleaned?
The most compelling reason is due to the aforementioned issue of the lint burning. If left to continue, the lint can eventually cause a spark that will grow into a fully-fledged fire. Dirty dryer vents are a huge fire hazard for this very reason, which is why keeping them clear is so pertinent.
Another factor to consider is energy spending. Due to that issue of having to work harder to force air through the choked-up vent, more energy is used in order to get your clothes dried. This can add up over time to be a huge drain that costs you! If you're looking for ways to save on energy around your home, this is a great step.
We Can Handle It For You!
It can be a messy job, and one that's important to be done thoroughly so that your vent is reliably cleared out. Our technicians are happy to take care of it all quickly and efficiently so you won't have to worry!
Contact Us Today!
Just call Air Duct Cleaning Pearland now, and we'll get to work!